2023-01-17 SONY FCB BLOCK CAMERAS
Sony is the recognized world leader in compact block module cameras for OEM applications. Sony FCB block cameras feature incredible image quality as well as a wide range of special features designed to produce the absolute best image quality in nearly any conditions. Integrated zoom lenses with up to 30x optical zoom and 12x digital zoom enable users to effectively capture images at great distances. Super Image Stabilizer ensures steady images even in extreme circumstances. Flare reduction, Defog, Visibility Enhancer, Spot Light Avoidance and Noise Reduction functions ensure clear, sharp images in nearly any type of conditions.
Depending upon your needs, Sony block cameras offer either 1920 x 1080 Full HD resolution, or up to 3640 x 2160 4K resolution, utilizing Exmor R or STARVIS CMOS imagers.
Sony block cameras are used throughout many industries, including security, photo booths, pipe inspection, drones, PTZ and sports cameras, medical systems, inspection systems, A/V, teleconferencing and a host of other specialized OEM applications. Sony's revolutionary designs ensure the highest performance possible. All Sony block cameras are VISCA controlled, making features easily programmable using your PC.
Reasons to select the Sony FCB
High resolution on a fast frame rate
With true 4K resolution (3840 x 2160 pixels) at 30 frames per second, the FCB-ER8300 has the capability to provide 4x the resolution of a Full HD camera.
Wide horizontal field of view
Sony FCB devices feature a 70.7 degree horizontal field of view (HFOV) at the wide end. This supports enhanced situational awareness and an extended coverage of areas.
StableZoom feature
Image stabiliser and optical/digital zoom are combined to enhance picture quality while maintaining the original horizontal angle of view, ensuring no compromise in image size while reducing blur.
2D/3D noise reduction
Advanced noise reduction technology filters noise from the image for clearer results. This is a particular advantage in low light conditions. Noise reduction can be selected from five levels to suit a wide range of operating environments.
Impressive set of features
Versatile operation is ensured by a multitude of functions and adjustments, including: white balance modes, picture effects (E-Flip, nega art, black & white, mirror Image, colour enhancement), motion detection and alarm, picture freeze, temperature readout, slow AE response, electronic shutter/slow shutter.
Specifications
·Sensor: latest Sony Exmor R CMOS
·Resolution: up to 4K
·Frame rate: up to 60 fps
·Lens: up to 70.4 degree HFOV, 20x / 30x zoom ratio, autofocus
·Interface: HDMI 1.4b video output
Markets and Applications
·Surveillance applications
·Low light vision
·Video conferencing
·Unmanned aerial vehicles (UAV) operations
·Broadcast and multi camera 4K video applications (Image stitching)


Display of various Sony FCB cameras
FCB-ER8530 (4K)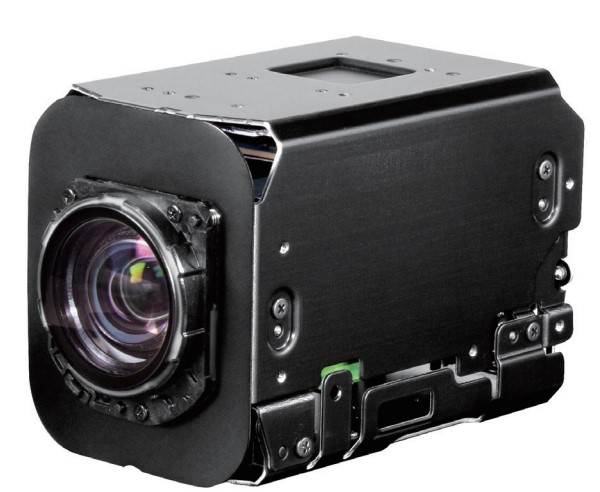 FCB-EV9520L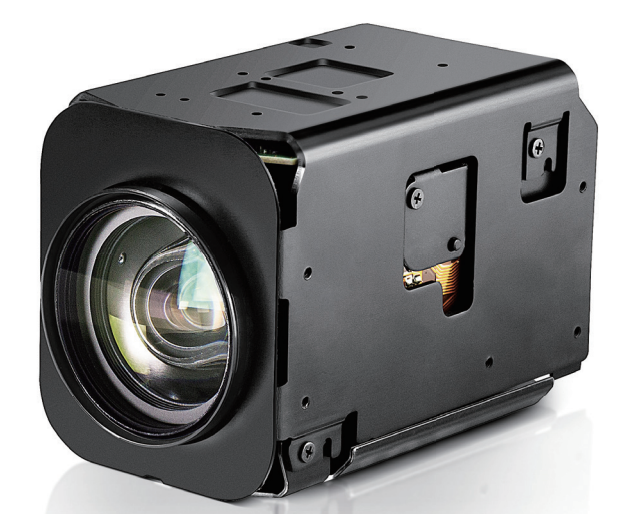 FCB 9500 Series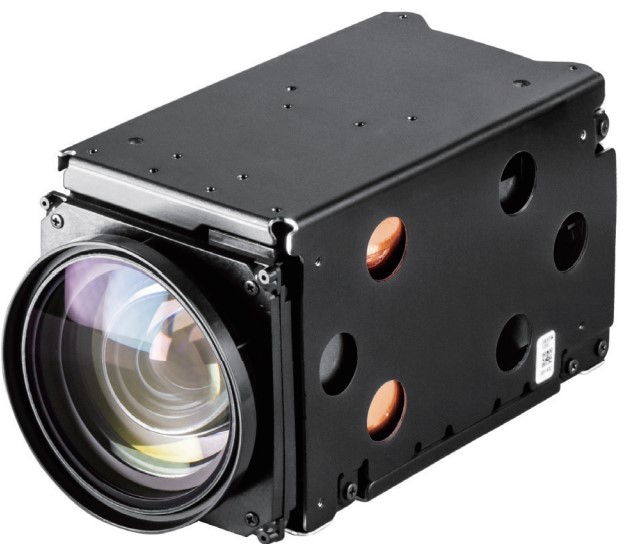 Interface boards
Sunnic S'pore has sources to partners with suppliers for interface board to support for Sony FCB cameras.

4K HDMI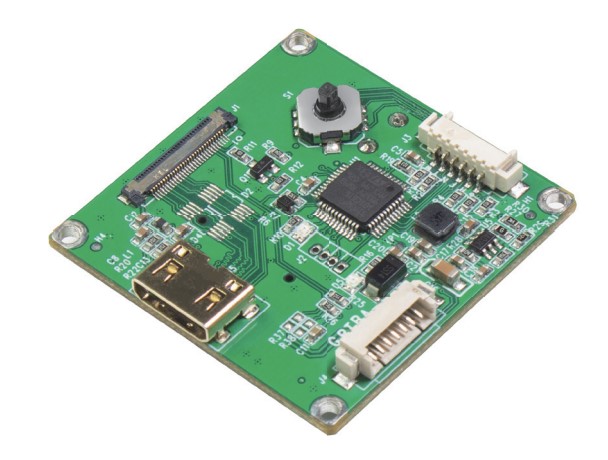 HD IP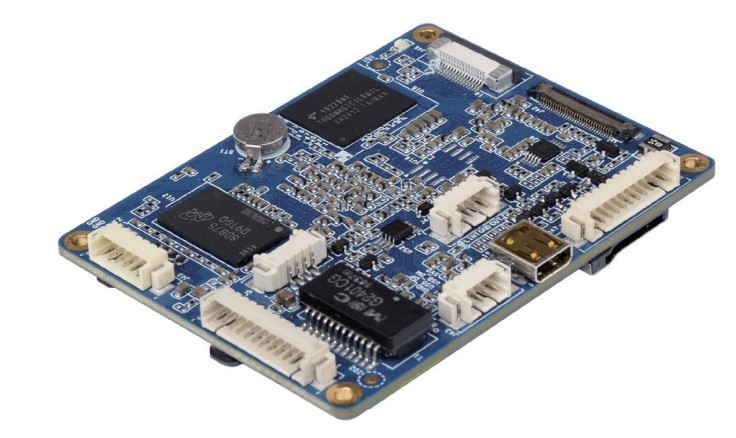 MIPI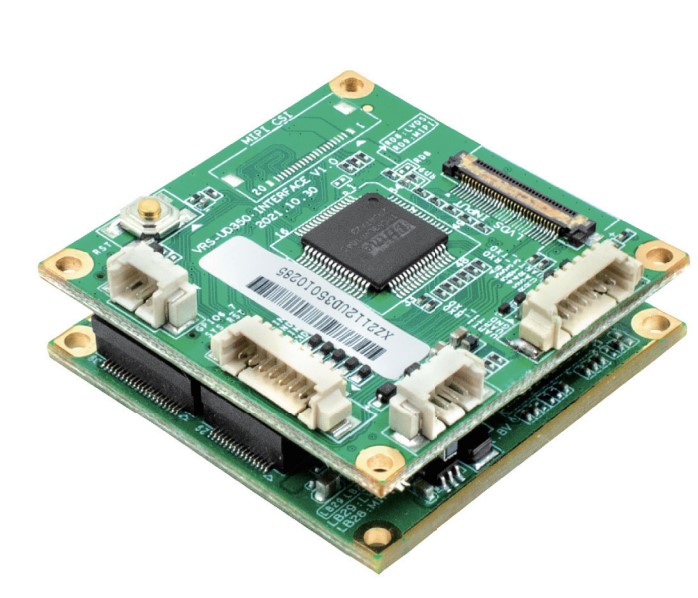 SONY FCB-EV7520 and FCB-EW9500H product functional parameter protocol comparison
Sony FCB-EW9500H has been one of the popular camera module movements since its launch. Its main highlights can be simply summarized as follows: 30x enhanced optical zoom, high definition, high sensitivity, super image stabilization, high dynamic wide dynamic and excellent optical axis consistency, of course, some people may say that light is only a concept, no contrast is unable to experience the difference. Hereby, Sunnic Technology will present the comparison of the main performance of FCB-EV7520 and FCB-EW9500H.
1.30x optical zoom
The lens of FCB-EW9500H and FCB-EV7520 are both 30x optical zoom, but the difference is that FCB-EW9500H uses a new 30x enhanced optical zoom. The newly designed lens can provide high definition and low aberration performance, so that it can go from far to near focal end, high definition images can be captured from the center of the frame to all sides of the span, using the 30x enhanced optical zoom without loss of image quality. Complete high resolution and significant chromatic aberration suppression can be experienced at Full HD output, and high image resolution can also be achieved at 4 megapixle (4M) output. Therefore, the picture quality output of FCB-EW9500H is more HD than that of FCB-EV7520.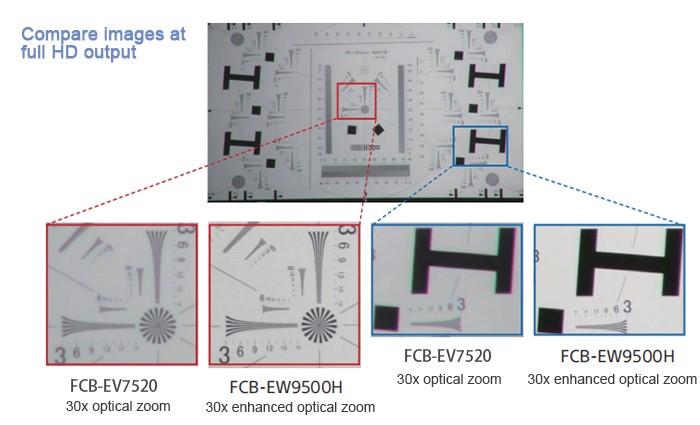 SONY FCB-EV7520 and FCB-EW9500H optical zoom comparison

2. Sensitivity
Compared with the SONY FCB-EV7520, the FCB-EW9500H uses a new pixel cell structure and circuit technology to make more efficient use of light. Compared with the FCB-EV7520 image sensor, the FCB-EW9500H achieves twice the sensitivity. As a result, clear images can be obtained even in night and dark environments.



SONY FCB-EV7520 and FCB-EW9500H high sensitivity comparison

3. Image stabilization function
FCB-EW9500H super image stabilization function compared with FCB-EV7520 image stabilization function, literally the difference is in the "super" 2 words, so what are the substantial advantages of FCB-EW9500H?
The FCB-EW9500H's 4 megapixel provides a wide correction area, which is more effective in reducing image jitter blur in severe jitter and twisting environments. There are two anti-shake modes to choose from according to the corresponding jitter degree:
(1) Super (super)
A larger correction area than traditional electronic stabilization is used to suppress and reduce strong jitter.

(2) Super+
By using a larger correction area than the "Super" mode, the "Super+" mode can inhibit the reduction of more intense jitter that the "Super" mode cannot handle.
Therefore, FCB-EW9500H is more suitable for application in ship, ITS intelligent transportation, bridge, UAV, vehicle and other fields.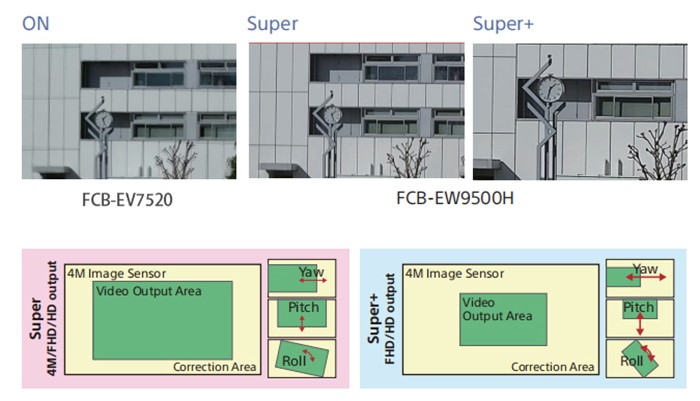 Comparison of image stabilization between SONY FCB-CV7520 and FCB-EW9500H

4. Aperture
FCB-EV7520 adopts a 2-leaf aperture structure, while FCB-EW9500H adopts a 7-leaf aperture structure, which solves the problem of diamond-shaped halo and double shadow leading to poor focus, so that the glare and halo generated will be relatively better round, thus greatly improving the image quality.