2022-08-15 IP Cam Video Solutions (5M ~ 2M)
Augentix is an IC design company specializing in multimedia signal processing and high-definition video products. Services include total solutions for professional/consumer network cameras, action cameras, and drone cameras.
Augentix also developed advance image/video processing technologies such as self-adjusting zoom, smart image clarity, motion-compensated 3D noise deduction, de-warping and electronic image stabilization.

A new generation of SoC (HC1703/HC1723/HC1753) was also recently released targeted at the consumer and general home security surveillance market. The 512 MB ~ 1GB DDR of embedded memory effectively lowers production costs for customers while still supporting dedicated, intelligent video analysis applications such as motion analysis, incident detection, and people counter for market differentiation.
 

HC1783S

HC1703

HC1753

HC1723

CPU

Dual A7 1GHz

Dual A7 900MHz

Dual A7 1GHz

Dual A7 900MHz

Encoder

12M@15fps
2K@45fps
2M@90fps

3M@30fps
2M@45fps

8M@15fpss
2K@36fps
2M@72fps

5M@24fps
2K@30fps
2M@60fps

Dual Sensor

O

X

O

O

With DDR

X

512Mb

1G

1G

NPU

0.3T

0.2T

0.3T

0.2T

Package

TFBGA 240

QFN 88

QFN 100

QFN 100

(Pedestrian Traffic Counter) (Pedestrian Traffic Flow)
Sunnic is offering customers with more refined solutions based on this platform as a supplier of professional image components. Additional configurations such as camera modules and turnkey solutions are also available. We will also draw upon our many years of experience with SoC and CMOS sensor platforms to provide customers with information for more applications (big data analytics such as pedestrian traffic statistics, object tracking...) and help them build specialized platforms for satisfying the requirements of different scenarios.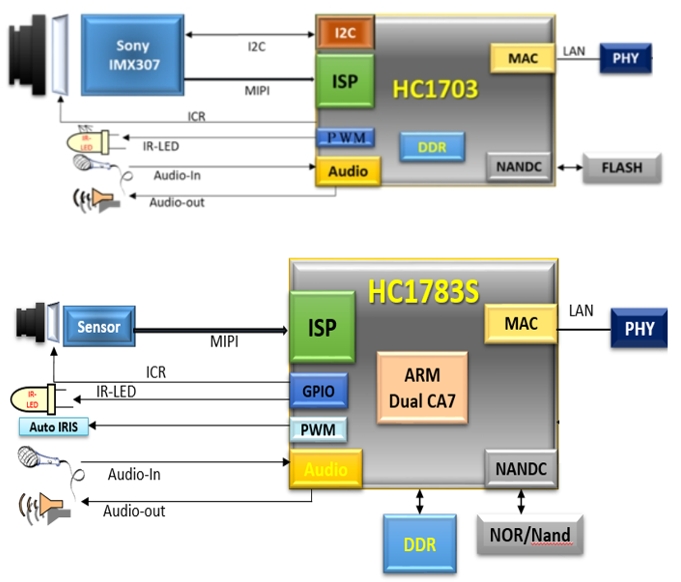 For more information regarding the products above, please contact our responsible person for products.